Photobucket and I have been exchanging emails about why my pro account isnt working- so you may or may not be able to see this little cartoon!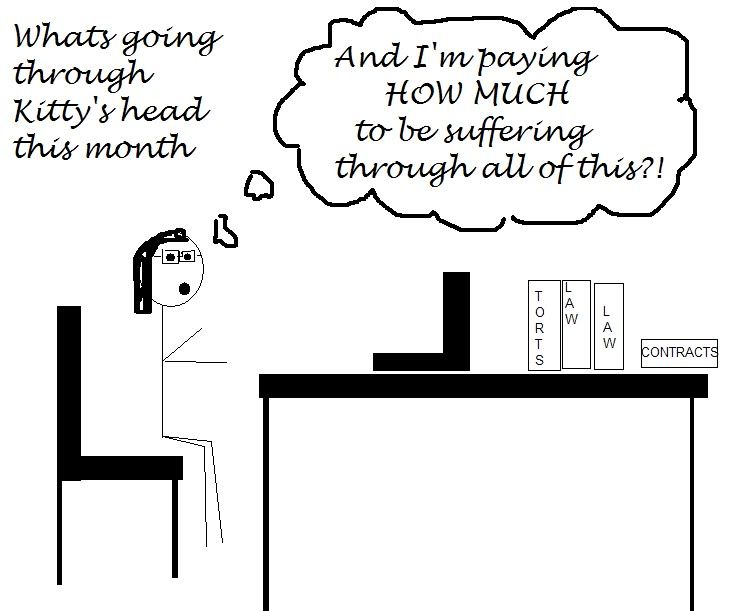 Apparently I've been completely naive to think that by taking summer classes- I would still have periodic breaks. How was I supposed to know that even though business summer classes are 3 hours a day, 2 days a week....that law school classes are 2 hours a day, but 5 days a week?
Goodness- was not expecting that.
So I made a hard decision. I decided NOT to take one of the classes I was planning. Simply because that will allow me 4 weeks of summer break before starting back to classes until my next break...winter break. I use "4 weeks of break" loosely- since I will probably be working.
There are 2 sessions of classes in the summer, and I decided to take one business and on law class each session. 4 classes this summer which comes to 12 credits. I figure that will help with my goal of graduating in 3 years. Well- actually 2 years from May...gulp.
For business I've got: Economics and Finance
And Law: Advanced Torts and Con Law II
My goals for this summer:
1. Pass (and get decent grades) this summer in all classes
2. Get to visit my college friend, Alyssa, in Portland
4. Do well at my job
5. Attend all summer weddings
6. Not go crazy. (thats a big one!)
I'm also setting up my fall semester...and guess what! It looks like if I stick with 4 classes for the next 2 summers, and 5 classes during the school year...I can ACTUALLY graduate on time. ALSO- I got offered a sweet summer/fall job as a student rep for a reasearch site (Lexis). Shesh- lets hope everything goes as planned!