I've found a great new workout...It goes a little like this:
Monday: Run 4 miles, play hopscotch with the neighbor kids
Tuesday: Run 5 miles, play hopscotch with the neighbor kids
Wednesday: Run 3 miles, play hopscotch with the neighbor kids
You get the idea :)
Although I just started my spring break as of 11am this morning (thanks to that whole front loaded week of classes, and zero classes on Thurs and Fri) The public schools here all had spring break this week. I've never met the neighbor kids, they asked me to play hopscotch with them after running on Monday. And you know what, you just cant say no to a game of hopscotch (or a bunch of cute little kids)
They didn't mind talking to a stranger, and I don't blame them....I was the same way.
And I have the proof...Ready for my stranger danger story?
Kitty's Stranger Danger Story
The story of how I learned not to talk to strangers
I kid you not, this story haunted me throughout my elementary school years and beyond. But now, I look back on it and laugh.
My family lived on a park my entire life (up until a couple months ago when my parents moved) If you've grown up with your house backing up to the park, you are accustomed to playing outside, unsupervised for the most part, since all of the neighbors kept an eye out on you.
One day, while I was about kindergarten age, my friend Mallory and I were playing inside when my mother insisted we go out to the park. I didn't want to on that particular day, so my mother filled up a little red wagon full of water balloons, and off we trotted.
Out in the park, we ran into this nice man with a puppy. We chatted a while, before he asked if we wanted to feed his dog. I was deprived of a puppy as a child (back when I actually liked them) so I jumped at the chance. Unfortunately, he had forgotten the puppy food in the backseat of his car. He asked if I wanted to get in and get it. (Everyone reading this should be seeing the red flag about right now, if it was a horror movie, this is about when the audience would realize she shouldn't go in the house of the axe murder)
I was a very trusting child, so I got in.
Not only did I get in.....but I closed the door behind me.
Kid you not.
After I got in the car, the man turned around and told me he was a police officer undercover. That my mother had talked with the local news channel and agreed that her daughter could be one of the sets of children for the documentary on kids going off with strangers.
I found my mother up at my house, absolutely hysterical with the camera crew. She thought she had taught me better. Honestly, she had...so don't blame her for that one!
We now have a fabulous video from the news channel of me walking and talking with the stranger, my mother hysterical over the fact I would even go with him, and the male announcer say "...and the kids shut the door" as I hopped into the strangers car. Better yet, out of all the sets of children who they taped, we were the only ones that would even talk to the man very long.
Not only did this video play over and over again, so that everyone at school knew I was the kid that was dumb enough to go with a stranger, but I even found out that my friend Mallory who was with me, saw it playing at Best Buy on the TVs just a couple of years ago.
I hope to find this video at home, and make a digital copy of it sometime soon. It really is quite a treat! And a great learning experience for you moms that think you've taught your kids well!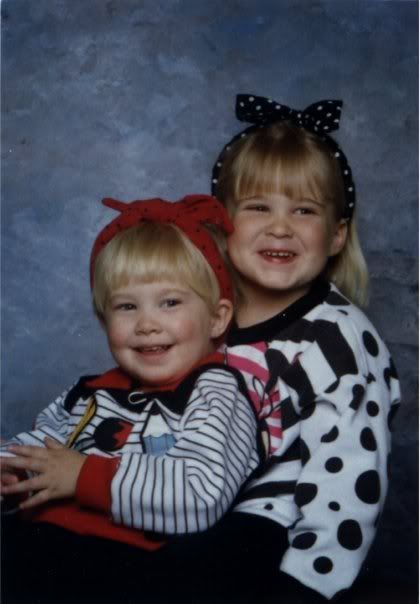 This is the only childhood photo of me I could find. I'm the little blonde boy in the front with a red bow